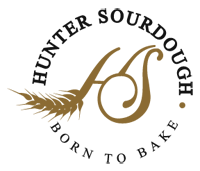 Sourdough - Bread product made by a long fermentation of dough, using naturally occurring lactobacilli and yeasts. Usually has a mild sour taste because of the lactic acid produced by the lactobacilli.
Bread Basket first began experimenting with sourdough in the late 1990's when Stewart did a sourdough course run by the Bread Research Institute. At this course he learnt how to start a sourdough from scratch, by letting the natural yeasts in fruit ferment, which created the starter for our original sourdough.
Stewart returned to the Bread Basket and started two cultures – one using chardonnay grapes from the local Hunter Valley Vineyards and this became a white sourdough, using white flour. The other one was started using Mulbring peaches, letting them ferment and attracting the natural yeasts out of our environment. Then with time, the addition of water and slow addition of rye flour started our second culture.
Having had success with our wholesale and retail products using these cultures we continued to experiment and improve our products.
Then, the opportunity was given to Stewart to be invited to do a week long sourdough course with other industry people and NSW TAFE teachers run by the "little master" Leon Bailey.
Leon had spent time learning from, in Stewart's opinion, one of the few highly regarded sourdough institutes in San Francisco, which still run amazing courses to this day.
Stewart returned from this course with even more hunger to perfect the type of sourdough he had been shown, but he wanted to do sourdough without the addition of bakers yeast.
This was the start of our traditional sourdough range using culture originating from San Francisco Sourdough Institute.
We market our sourdough range under Hunter Sourdough.
Click on any image to view larger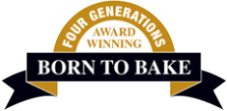 161 Lang Street
Kurri Kurri NSW 2327
Phone:(02) 4936 2226
Fax: (02) 4937 4458
ALL Wholesale/Trade Enquires, call (02) 4936 2226
If you are making a wholesale or trade enquiry, please call the shop on the number above for prompt assistance.