We have an excellent team who all have a vital role to play and consists of:-
4 x Baker/Pastrycooks - two of whom commenced their apprenticeship with us
2 x Baker/Pastrycook Apprentices
1 x Cake Decorator
7 x Retail Assistants
4 Drivers
2 Cleaners
Lisa is our retail manager, a role she commenced in 2015 after being with us for a few years as a retail assistant.
Lisa has made this role her own, using her years of retail experience.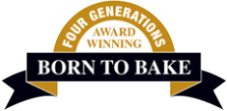 161 Lang Street
Kurri Kurri NSW 2327
Phone:(02) 4936 2226
Fax: (02) 4937 4458
ALL Wholesale/Trade Enquires, call (02) 4936 2226
If you are making a wholesale or trade enquiry, please call the shop on the number above for prompt assistance.