We have an excellent team who all have a vital role to play and consists of:
4 X Baker/Pastrycooks – two of whom commenced their apprenticeship with us
2 X Baker/Pastrycook Apprentices
1 X Cake Decorator
10 X Retail Assistants
3 X Drivers
2 X Cleaners
Our crew are ably managed by our production manager Tim Jackson and our retail manager Lisa Zammit.
Tim commenced his apprenticeship with us in 2003.
Tim has gained much valuable experience in the years that he has been with us, from TAFE, hands on work and involvement in many competitions
Lisa had been with us for a few years as one or our retail staff.
In 2015 Lisa became manager of the retail section of our bakery, a
role that she has made her own, using her years of retail experience.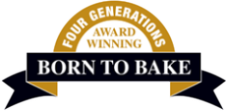 161 Lang Street
Kurri Kurri NSW 2327
Phone:(02) 4936 2226
Fax: (02) 4937 4458
ALL Wholesale/Trade Enquires, call (02) 4936 2226
If you are making a wholesale or trade enquiry, please call the shop on the number above for prompt assistance.